Welcome to our KidzPointe Ministry at Franklin Heights Church! It is our desire for every child to Know God, Love the Church, Think Biblically and Point(e) to Jesus.
Know God
Above all, God wants us to know Him. Our KidzPointe Ministry is committed to helping every child know God personally. We want your child to start and continue a life-long, personal relationship with Jesus as their Savior. Here are some ways your child will be equipped to do this:
Understand how to be saved
Know why they need to be baptized
Learn how to pray and study the Bible
Grow in their knowledge of God
Love the Church
Unfortunately, the culture today does not value the church. We want to change that in the lives of our children. The church is a gift from Jesus for all those that have made Him their Savior. Jesus loves the church, and so should we.
Love worship and the preaching of the Word
Love being a part of Biblical community
Love serving the church
Love giving to help advance the Kingdom
Our KidzPointe Ministry meets at the following times and locations:
Rocky Mount Campus
8:30—Nursery (birth-Kindergarten) & KidzPointe Worship (Grades 1-5)
9:45 — Connect Groups (birth to Grade 5)
11:00—Nursery (birth-Kindergarten) & KidzPointe Worship (Grades 1-5)
CrossPointe & Union Hall Campuses
10:00—Connect Groups (birth to Grade 5)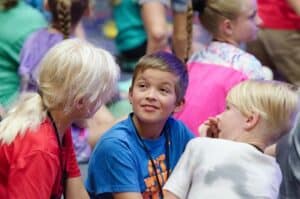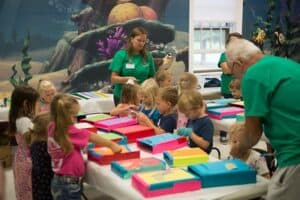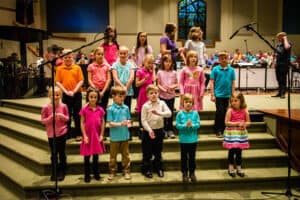 Think Biblically
Now more than ever kids need to think through a Biblical lens. In our post-truth culture we need our kids to know what the Bible says and how it applies to every aspect of life. Our KidzPointe ministry is committed to equip your children to be convinced of the truths of the Bible and be able to defend those beliefs. We achieve that by:
Understanding what a Biblical worldview looks like
Being trained on how to defend their faith
Knowing how to evaluate culture and ideas
Learing how to stand for truth no matter the opposition
Point(e) to Jesus
If we don't produce followers of Jesus, who then lead others to do the same, we have missed the mark. KidzPointe's primary goal is to follow the Great Commission by making disciples who make disciples. KidzPointe wants to help children live a SENT life. This is done by:
Loving people who are far from Jesus
Serving the needs of  those around us
Sharing the good news of Jesus
Going wherever God calls us to be a light to the world
Awana Kids Club
Do your best to present yourself to God as one approved, a worker who has no need to be ashamed, rightly handling the word of truth. II Timothy 2:15 (ESV)
Awana ministry activities kicked off on Wednesday, September 6, 2023 at the Rocky Mount Campus for children ages 3 years through grade 6. Clubbers may be dropped off starting at 5:45pm and picked up at 7:30pm each Wednesday. More information coming soon!
Click here to register your child(ren).
Click here to serve as a Leader.
CONTACT
Julio Velandia, awana@franklinheights.org